WE ARE ALL ABOUT YACHT RENTAL & YACHT CHARTER IN SINGAPORE
The Yacht Club (TYC) is an established luxury yacht rental company based in Singapore. We provide more than 40 yachts available for charter, as well as F&B and water sports to complete this exclusive experience.
We are a crewed yacht rental company in Singapore and customer satisfaction is our number one priority. You just need to let us know your requirements, and we will take care of all the details. We have multiple luxury yachts for charter in Singapore. Our yacht rental services allow you to host events like wedding solemnization, marriage proposals, party boat rentals, team building events or a romantic cruise along the city sky line.
There is a general misconception that the yachting lifestyle is out of reach to the common folk. We, at The Yacht Club (TYC), would like to change that notion. There has never been a more exciting time to get into yachting. You do not have to own a yacht to enjoy the pleasure of water flowing beneath you and the sea breeze stroking your face. Enter yacht rentals/charters, an affordable way to experience yachting with your family and friends. Our mission is to bring the yachting lifestyle to the masses. We are The Yacht Club (TYC) without boundaries, taking you on nautical adventures in style.
Join us on an affordable luxury experience, where we take you on a nautical adventure around Singapore waters. Explore Singapore's cluster of Southern Islands, such as St. John's Island, Pulau Seringat and Lazarus Island. Lazarus Island is an exclusive island accessible by private yachts only! Over there, you may engage in water activities, swim in the clear waters of Lazarus bay, watch the sunset or enjoy a romantic walk along the beach. End the trip with a breathtaking view of Singapore's city skyline with a cruise along the MBS area.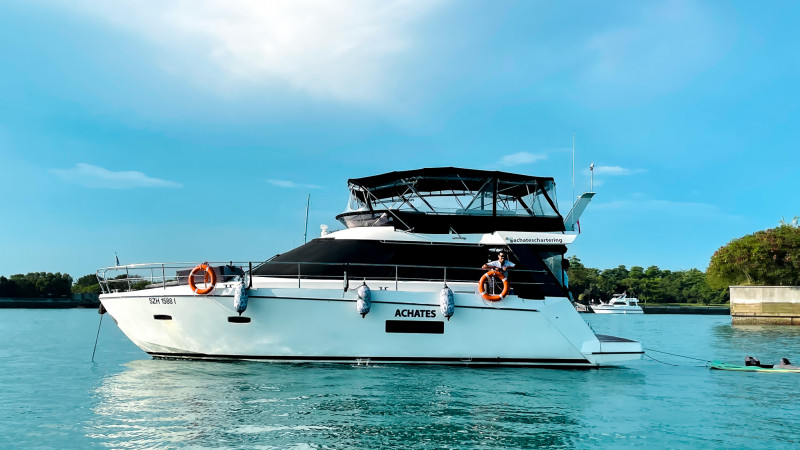 Achates, a 2012 Sealine flybridge cruiser, features lush wooden interior and a well equipped kitchen. Offering a spacious cockpit and a large saloon, this beauty is perfect for your intimate social gathering.
Without doubt, the F42 is the most complete flybridge launch from Sealine to date. The F42 takes the big, bold and very bright theme of the F46, smoothes it out, tunes it up and actually manages to improve on its big sister in quite a few ways.
More details: Yacht rental in Singapore – Achates
Below are some of the happy customers that have previously done corporate events with us.
Tired of ballrooms or dinner and dance? Try a corporate yacht charter with us today!






Since sealing its independence in 1965, Singapore's heritage buildings, hawker centres, green spaces and shopping malls have lured travellers, but new developments have elevated the experience. First there's Marina Bay, a new entertainment precinct, then there's the new crop of swanky hotels, new attractions like the National Art Gallery and the Singapore Sports Hub, and more than a dozen metro extensions in development. Not forgetting our many islands off the coast where renting a luxury yacht is one way to enjoy a relaxing day. Yacht rental made easy, The Yacht Club Singapore (TYC). Visit Singapore today!
Read more: Check out things to see and do in Singapore!